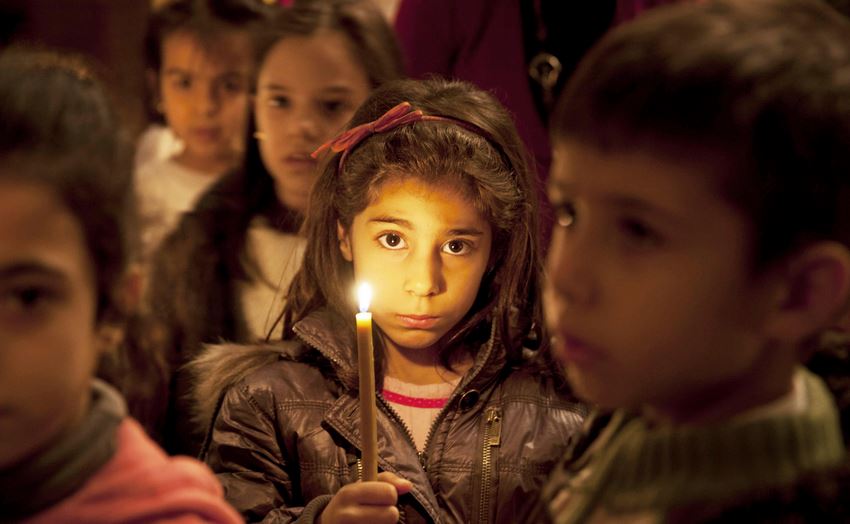 Raymond Ibrahim is a Shillman Fellow at the David Horowitz Freedom Center.
As refugees from the Middle East flood the West, a number of countries—including Hungary, Bulgaria, Poland, Czech Republic, Slovakia, Cyprus, and Australia—are defying political correctness by wanting to accept Christian refugees only.  
While more "progressive" voices cry "racism," the fact remains: there are several objective reasons why the West should give priority, if not exclusivity, to Christian refugees—and some of these are actually to the benefit of European host nations. 
Consider:
Christians are true victims of persecution.  From a humanitarian point of view—and humanitarianism is the chief reason being cited in accepting refugees—Christians should receive top priority simply because they are the most persecuted group in the Middle East—well before the Islamic State phenomenon came into being.  As Australian Foreign Minister Julie Bishop put it,
"I think that Christian minorities are being persecuted in Syria and even if the conflict were over they would still be persecuted."   
Indeed.  While they are especially targeted by the Islamic State, before the new "caliphate" was established, Christians were and continue to be targeted by Muslims—Muslim mobs, Muslim individuals, Muslim regimes, and Muslim terrorists, from Muslim countries of all races (Arab, African, Asian, etc.)—and for the same reason: Christians are infidel number one.  See Crucified Again: Exposing Islam's New War on Christians for hundreds of anecdotes before the rise of ISIS as well as the Muslim doctrines that create such hate and contempt for Christians.
Conversely, Muslim refugees—as opposed to the many ISIS and other jihadi infiltrators posing as "refugees"—are not fleeing direct persecution, but chaos created by the violent and supremacist teachings of their own religion, Islam.  It's not for nothing that Samuel Huntington famously pointed out that "Islam's borders are bloody, and so are its innards."  This means that when Muslims enter Western nations, chaos, persecution, and mayhem follow.  Take a look at those West European cities—for example, Londonistan—that already have a large Muslim population for an idea. 
Muslim persecution of Christians has been further enabled by Western policies, especially those of the Obama administration.  In other words, Western nations should accept Christian refugees on the basis that Western meddling in the Middle East is directly responsible for exacerbating the plight of Christian minorities.  After all, Christians did not flee from Bashar Assad's Syria, or Saddam Hussein's Iraq, or Muamar Gaddafi's Libya.  Their systematic persecution began in earnest after the U.S. and others interfered in those nations in the name of "democracy."  All they did is unleash the jihadi forces that the dictators had long kept suppressed. Now the Islamic State is deeply embedded in all three nations, enslaving, raping, and slaughtering countless Christian "infidels" and other minorities.
Vladimir Putin's thoughts on the refugee crisis are plainly true:
This is a crisis which was absolutely expected….  We in Russia and your humble servant said several years ago that there would be massive problems if our so-called western partners conduct what I have always called the "wrong" foreign policy, especially in regions of the Muslim World, the Middle East and north Africa, which they continue practically to this day.
The Russian leader correctly adds that
"people are running away not from the regime of Bashar Assad, but from Islamic State, which seized large areas in Syria and Iraq, and are committing atrocities there. That is what they are escaping from."
Thus if the West is responsible for unleashing the full-blown jihad on Christians, surely it is the latter that the West should prioritize, from a humanitarian point of view.