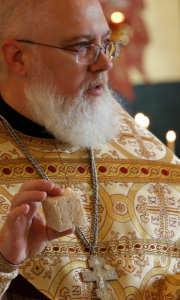 I am Fr. John A. Peck, pastor of All Saints of North America Orthodox Church in Sun City, a suburb of Phoenix, Arizona, and an Orthodox priest under the Russian Orthodox Outside of Russia. 
This is my personal blog, and its theme is "The Orthodox Church of Tomorrow."  It is the theme and premise of my priesthood that our Lord is building a more vital, more dynamic and more functional church, a radically Orthodox Church on American soil, and that we are participants in this building. I write on the topics which advance this idea: preaching, teaching, practical missiology and their place in the American Orthodox Mission. I am particularly interested in the use of new media in Gospel outreach and evangelism.
Occasionally, I am invited to speak on topics related to the Orthodox Church of Tomorrow, Homiletics, ancient and modern, New Media and practical evangelism, Priestly Formation and Vocation. 
I am very happily married and the father of three adult sons.
My Contact Information
You can contact me via my Contact Page, or follow me on Facebook.
Or you can find me at
All Saints of North America Orthodox Church
9502 W. Hutton Rd.Sun City, AZ85351
(928) 910-2186
Biography
I attended Michigan State University and met my wife, Deborah Robertson, there. I have degrees in English (Michigan State University), Theology (St. Herman Theological Seminary, Kodiak, AK). I completed coursework towards a Masters in Public Administration (Southern Illinois University – Carbondale) and was granted a D.Min. by Veritas Theological Seminary in 2009. My thesis became the book "Called To Serve: A Basic Bible Survey for Orthodox Christians."
My first work in new media was the Incarnation Broadcast Network, the first 24 hour Orthodox Christian internet radio broadcast in the world. I also established the first Orthodox seminary website in the world, and hosted the first Orthodox Media Guild gathering in Chicago in 2004, inviting Orthodox media ministries from around the country to plan how to use their new technologies to reach the unchurched.
I served as lecturer in Biblical Studies and Practical Liturgics for the Late Vocations programs of the OCA Diocese of the Midwest, and the Northeast Ohio Catechetical School for Theological Studies.  I'm also the director of the Preachers Institute, an online homiletic resource for Orthodox pastors and preachers. I've also been a Featured Homilist at Sermon Central.com, and a national partner and evaluator for the Academy of Preachers.

I've written several workbooks and manuals for instruction: Called To Serve, Student and Leader's Manuals, Divine Liturgy: A Student Study Text, the Bible Drill/Bible Divas Field Manuals, and S.W.A.T. (Spiritual Warfare And Training). I've written articles for Orthodoxytoday.org, the American Orthodox Institute, The Handmaiden magazine, the Interior Strength blog, the St. Katherine College website, and others. I have been an occasional writer for Charles Staley's Staley Training Systems website, and have been featured on the Functional Hand Strength, Theory To Practice, and The Masculine Heart websites.
My work experience includes 30 years of graphic design work, decades of non-profit administration, including a stint as the Executive Director of The Helen Foundation, a non-profit medical foundation located in Mesa, AZ. When I was younger, I worked in factories, as a delivery driver, in food service and even in a food science lab making synthetic cow manure (really!).
I contributed  a number of articles for the Orthodox Study Bible and commentary on the Old Testament books of Hosea, Song of Songs, and III Maccabees (perhaps the first Orthodox commentary for this book in existence).
I founded Journey To Orthodoxy for helping those seeking  inquiring into and seeking contacts within the Orthodox Church, and assisting heterodox pastors in their transition to Orthodoxy.
I also launched Good Guys Wear Black, a website designed to help men who are discerning  a vocation in the Orthodox Church.
I've taught Latin language classes and tutored in the sciences for many years at various schools, including the Tri-City Prep High School, and the Upward Bound Summer Programs at Michigan State University and Embry Riddle Aeronautical University.
Disclaimer
This is my personal blog. The opinions I express here do not necessarily represent those of my employer, my fellow clergy, my bishop or my church. I make no representations as to accuracy, completeness, suitability, or validity of any information on this blog and will not be held liable for any errors, omissions, or delays in this information or any losses, injuries, or damages arising from their use.
You have my permission to republish any information on this blog as long as proper and easily visible attribution is made, with a link back to the original.