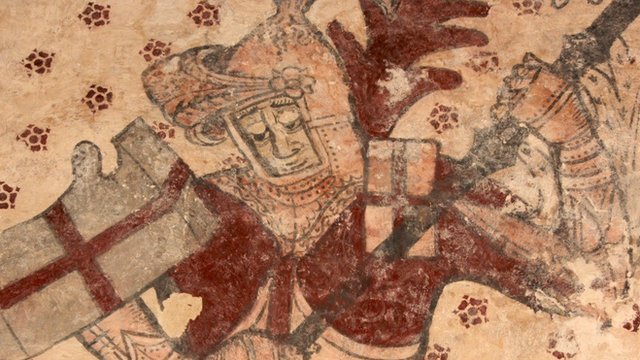 Although they seem to have forgotten the word, this is obviously iconography in a Welsh Church, in the Medieval European style – Orthodoxy in the life blood of Welsh churches.
Built on the site of a 7th century monastery and founded around 1200, St Cadoc's in Llancarfan, Vale of Glamorgan is, from the outside, just another beautiful small Welsh village church.
But inside, conservators have uncovered some stunning 15th century wall paintings to the delight of locals, visitors and experts alike.
After the discovery of a thin red line of paint on the wall, a team of experts were brought in to investigate what else was lurking behind the 20 layers of limewash added over five centuries.
Now, after five years of restoration work, the church is revealing its treasures: startlingly bold images of the seven deadly sins, a royal family, a ghoulish death figure – and what has been described as one of the largest and most spectacular tableaux of St George and the Dragon ever seen in a British church.
The work was funded by local trusts, Wales's heritage body Cadw and the Heritage Lottery Fund.
Having been closed except for services during the long periods of conservation work, St Cadoc's is now ready for the public to see the pictures for themselves.