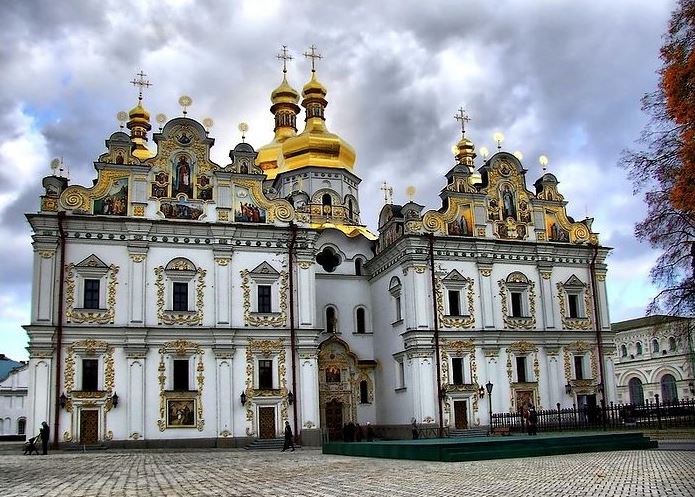 On Wednesday, March 7, representatives of Dimitry Korchinsky's radical youth organization "Brotherhood" held an illicit "moleben" in the Dormition Cathedral of the Kiev Caves Lavra, which they dubbed the beginning of the seizure of the monastery, reports UNIAN.
During the "moleben," one of the members read out a "prayer" for the "Moscow occupiers." Korchinsky made repeated attempts to the storm the monastery in the early 1990s.
Following the blasphemous prayers, the group made a video in which they call for the "liberation of Ukrainian shrines from the Moscow invaders." The nationalists are members and supporters of the schismatic "Kiev Patriarchate" which divides Orthodox Ukrainians against one another and divide the nation. 
Korchinsky wrote about the event on his Facebook page:
"An hour ago, Brotherhood successfully held a moleben for the victory of the Ukrainian army over the Moscow occupiers in the Dormition Cathedral of the Kiev Caves Lavra. This will happen regularly. Nothing terrible happened. Please, go to churches of the Moscow Patriarchate and do the same."
In the video, Korchinsky also notes that the "moleben," with no regard for religious confession, united members of the "Kiev Patriarchate" and the Greek Catholic Church who share their hatred of Moscow in common.
"The Caves Lavra is occupied by Moscow agents of the FSB. This is the first moleben in the Lavra where patriots have prayed, and not Moscow agents. Enemies of Orthodoxy and of the Ukrainian people have entrenched themselves in this holy site, and these people should be expelled from Ukraine," the radical leader declares.
In fact, the same thing happened a year ago, when a group of 200, including a "Kiev Patriarchate" priest served a blasphemous "moleben" in the same church.
"We came to this church today and left within half an hour; tomorrow we will come again and leave after a few days. Then we will come and never leave," the radicals declared.
Extremists in the past of made bomb threats, and attempted to disrupt festal services.