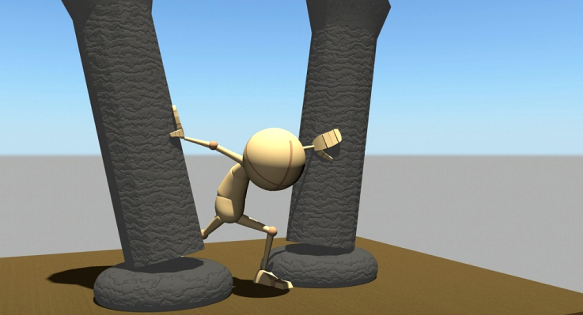 by Fr. John A. Peck
A sermon written in 1999.
"Father, I have a question. It's about the Bible. Why is Samson such a highly praised figure in the Bible? I mean, he certainly wasn't an image of virtue, and he didn't deal well with his own passions. Why is he even in there?"

"Well," I said, " what is your impression of Samson?"

"Um, he's a party-hearty spoiled frat boy," came the honest answer. "He's just a pig!"
This from a mother of children who is trying to impart some love and knowledge of God and the Bible. What do you say to justify this man, the epitome of everything you are trying to teach your children not to do? What do you tell your children about Samson that will make any sense at all?
What about this guy? Samson is an interesting character, and he has some special characteristics that will help us see precisely why he is so very important in the Biblical narrative.
When most people think of Samson, they think "unrestrained." That is, unrestrained in both his strength and his passions, and particularly weak in his inability to resist destructive women. I actually have friends like this. They fall for the most psychotic, destructive women they can meet, and are not attracted to any others. Even the names "Samson and Delilah" are a parable almost by themselves. He is the ultimate hot tempered spoiled brat with a short fuse. He likes Philistine women, and this is his downfall. But there is more here than meets the eye.
Samson's birth.
First of all, Samson's birth is foretold by an angel. His mother is barren – she can't have children. Ah, but there is more. The angel tells Samson's parents that this child will be special, consecrated to God from his birth. He must even watch what he eats. He is not permitted to even let wine touch his lips (wine was a principle component of early Canaanite idol worship ceremonies- hence its prohibition). He will be a nazarite – a specially chosen man who will live a particular way.
The name Samson is even fun to say. It has a great meaning; in Hebrew -"like the sun." His long hair would then represent the rays of glory coming from the sun. That glory must never be shorn. One might say that Samson will be strong only as long as he radiates this glory.
There are three things which Samson actually did which have special meaning, and tell us a great deal about the "meaning" of Samson in the Scriptures.
Samson kills a Lion with his bare hands.
First of all, we know that, with his bare hands, he kills a lion. Have ever even tried to hold a cat that didn't want to be held? Can you imagine what a terror it would be to stand before such a beast with nothing but your hands? Yet Samson escapes without a scratch, or at least nothing worth noting by the Biblical writer. He doesn't even require a single stitch. It must have been a quick, heavily mismatched fight. More than that, we see that after Samson kills the lion, he passes by it again later, and there is a beehive and honey in the carcass.
When seemingly trapped, Samson tears the city gates from their hinges, and carries them off to the top of a hill.
When the Philistines believe, at one point in the narrative, that they have Samson within their city, they close and lock the enormous gates, barring his exit. In the morning, they will search him out and capture him. So when our hero, in the middle of the dark night, finds the gates closed, barred and locked what does he do? He tears the gates from their hinges, and, just to add insult to injury, carries them on his back to the top of a nearby hill so everyone can see them. There can be no doubt who did it. Samson cannot be held prisoner in this place, and neither can anyone else once he leaves.
Sacrificial Death.
In the final scene, so to speak, we find Samson shorn of his hair (and his strength and glory), weak, blinded, and put on display for the ridicule of God's enemies, in their own temple. The once mighty Samson is now reduced to doing the work of a beast. Unlike many of the illustrations we sometimes see, the pillars in Philistine temples were not stone, but huge cedar pillars – hard, fragrant, and incorruptible. He prays to God one last time, puts his hands on the two pillars which hold up the entire edifice, and in one last mighty effort, sacrifices himself to destroy his enemies.
Let's review.
Here is a man,
whose miraculous birth was foretold by an angel.
His name means "like the sun."
He was a nazarite, and consecrated to God's service from his birth.
He destroyed with his bare hands a fearsome lion, with ease, and out of this victory came something sweet.
He tore the locked gates from the dark city which tried to trap him there, and with his victory, no one could be trapped there again.
At the end of his heroic life, when seemingly helpless and surrounded by his enemies who are sure of their victory over him, he puts his hands on two pieces of wood, and with one mighty effort, destroys all his enemies and saves his people in an amazing sacrificial death.
Does any of this sound familiar?
You see, Samson is a type, or foreshadowing, of Christ. The "impression" of Christ is what Samson is.
Christ, whose birth was foretold by an angel. (Luke 1:26-38)
Christ, who was referred to by the apostles as a nazarite (Matthew 2:23), and by many prophets and saints as "The Sun of Righteousness."(Malachi 4:2; Psalm 19:4-6)
Christ who easily defeats the devil,(who prowls about like a roaring lion, seeking to devour whoever he can-1 Peter 5:8 ) and we get to taste the sweetness of that victory.
Christ, who tore open the gates of death and hell, and opened forever the way to eternal life for those who were trapped in mortality.
Christ, Who, beaten, humiliated and alone, willingly put His hands on the Cross, and by His sacrificial death, destroyed death in His own flesh.
The person and deeds of Samson are a foreshadowing of the person and deeds of Jesus Christ. In the story of Samson, we see only a dim and fuzzy shadow, until the reality appears. The shape of the shadow becomes evident when we can see what is making it. This isn't fancy proof-texting or twisting the text to fit a pre-determined idea. This is what is really there for anyone to see. It was put there by the author – Christ Himself.
Because of the story of Samson, we can recognize fully what a hero our Lord really was. He defeated the devil as a man, destroyed the gates of death and hell, and brought life through His own sacrificial death.
He was a man of unsurpassed strength.