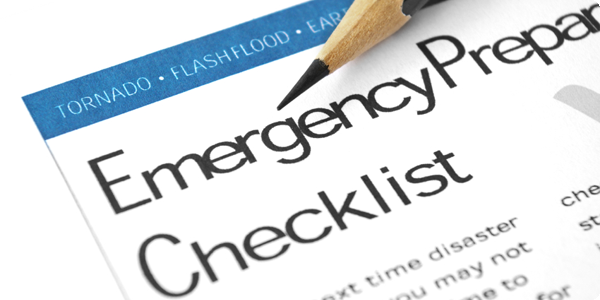 If you can help yourself, you can help others – if you can't, you can't.  You can't be too prepared.
Recent weather-related tragedies across the U.S. including floods triggered by tornadoes and violent storms in the Midwest, wildfires in California, and the onset of the Atlantic hurricane season are grave reminders of the threat of natural disasters and the need for disaster preparedness.
International Orthodox Christian Charities (IOCC), which has been delivering emergency relief to disaster survivors around the world since 1992, offers a four-point emergency checklist to help provide for the safety and security of you and your loved ones. The plan includes action steps to prepare emergency supplies, develop a plan of action for an emergency, and find information on threatening disasters and ways to get involved. The checklist is available on the IOCC website at www.iocc.org/emergency.
"The most effective way that we can assist people in response to natural disasters is to help them be prepared in case of an emergency," said Daniel Christopulos, IOCC U.S. Country Representative. "Planning for the hours and days immediately following a disaster before help arrives can be critical. There are a few simple but crucial steps that everyone should take that can make an enormous difference in the aftermath of natural disasters."
Members of the IOCC Frontline, a team of highly trained, credentialed and experienced emergency response personnel who assist communities and Orthodox parishioners in times of crisis, were recently dispatched to Moore, Oklahoma, to assist in aiding survivors of a massive tornado that tore through the community.
Working with Orthodox Christian parishes and ecumenical partners, IOCC sent emergency clean-up buckets, personal hygiene kits and blankets to the University of Oklahoma and to Holy Ascension Antiochian Orthodox Church for distribution to families in need in central Oklahoma. IOCC Frontliners continue to reach out to survivors, providing emotional and spiritual caregiving at the various locations where relief services are offered and in the field where residents and volunteers are working.
HOW YOU CAN GET INVOLVED
Prepare a disaster plan for you and your family by following the steps provided on the IOCC website at www.iocc.org/emergency
Get involved by organizing a drive to assemble emergency clean-up buckets, hygiene kits or infant kits for people in need following a disaster. For assembly instructions, please visit www.iocc.org/kits
Support IOCC's humanitarian efforts by making an online gift to the United States Emergency Response Fund which will provide immediate relief as well as long-term support through the provision of emergency aid, recovery assistance and other support to those in need. To make a donation, please visit www.iocc.org, call toll-free at 877-803-4622 (IOCC) or mail a check or money order to IOCC, P.O. Box 17398, Baltimore, MD 21297-0429.
ABOUT INTERNATIONAL ORTHODOX CHRISTIAN CHARITIES
IOCC is the official humanitarian aid agency of the Assembly of Canonical Orthodox Bishops of North and Central America. Since its inception in 1992, IOCC has delivered $438 million in emergency relief and development assistance to families and communities in more than 50 countries. IOCC is a member of ACT Alliance, a global coalition of more than 130 churches and agencies engaged in development, humanitarian assistance and advocacy, and InterAction, the largest alliance of U.S.–based secular and faith-based organizations working to improve the lives of the world's most poor and vulnerable populations.
To learn more about IOCC, visit www.iocc.org.