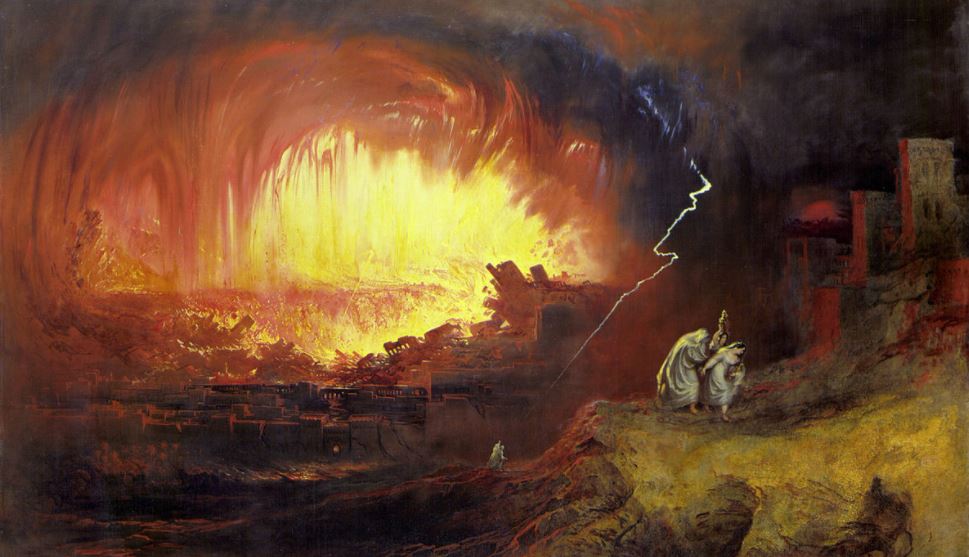 It is not popular to say, but the teaching is clear and unchanging. Scriptures, Christian Saints, and Church Fathers warned the faithful that homosexuality is an unrighteous act, a mortal sin, an abomination. There is no lukewarm, duplicitous, ambiguous, or confused language in their preaching. The cure of the sickness of sin – any sin – is repentance.
Leviticus 18:22
"You shall not lie with a male as with a woman; it is an abomination."
1 Corinthians 6:9-11
"Do you not know that the unrighteous will not inherit the kingdom of God? Do not be deceived. Neither fornicators, nor idolaters, nor adulterers, nor homosexuals, nor sodomites, nor thieves, nor covetous, nor drunkards, nor revilers, nor extortioners will inherit the kingdom of God. And such were some of you. But you were washed, but you were sanctified, but you were justified in the name of the Lord Jesus and by the Spirit of our God."
Romans 1:24-32
"Therefore God also gave them up to uncleanness, in the lusts of their hearts, to dishonor their bodies among themselves, who exchanged the truth of God for the lie, and worshiped and served the creature rather than the Creator, who is blessed forever. Amen.
For this reason God gave them up to vile passions. For even their women exchanged the natural use for what is against nature. Likewise also the men, leaving the natural use of the woman, burned in their lust for one another, men with men committing what is shameful, and receiving in themselves the penalty of their error which was due.
And even as they did not like to retain God in their knowledge, God gave them over to a debased mind, to do those things which are not fitting; being filled with all unrighteousness, sexual immorality, wickedness, covetousness, maliciousness; full of envy, murder, strife, deceit, evil-mindedness; they are whisperers, backbiters, haters of God, violent, proud, boasters, inventors of evil things, disobedient to parents, undiscerning, untrustworthy, unloving, unforgiving, unmerciful; who, knowing the righteous judgment of God, that those who practice such things are deserving of death, not only do the same but also approve of those who practice them."
1 Timothy 1:8-11
"But we know that the law is good if one uses it lawfully, knowing this: that the law is not made for a righteous person, but for the lawless and insubordinate, for the ungodly and for sinners, for the unholy and profane, for murderers of fathers and murderers of mothers, for manslayers, for fornicators, for sodomites [men who practice homosexuality], for kidnappers, for liars, for perjurers, and if there is any other thing that is contrary to sound doctrine, according to the glorious gospel of the blessed God which was committed to my trust."
Leviticus 20:13
"If a man lies with a male as he lies with a woman, both of them have committed an abomination."
Judges 19:22-23
"As they were enjoying themselves, suddenly certain men of the city, perverted men, surrounded the house and beat on the door. They spoke to the master of the house, the old man, saying, "Bring out the man who came to your house, that we may know him carnally!"
But the man, the master of the house, went out to them and said to them, "No, my brethren! I beg you, do not act so wickedly! Seeing this man has come into my house, do not commit this outrage."
Great Saints and Fathers of the Christian Church
St. Paul the Apostle (1st century, Apostle to the Gentiles)
"For this reason God gave them up to vile passions. For even their women exchanged the natural use for what is against nature. Likewise also the men, leaving the natural use of the woman, burned in their lust for one another, men with men committing what is shameful, and receiving in themselves the penalty of their error which was due." (Romans 1:26-27)
Tertullian (2nd century, great Church Apologist)
"All other frenzies of lusts which exceed the laws of nature and are impious toward both bodies and the sexes we banish … from all shelter of the Church, for they are not sins so much as monstrosities." (De pudicitia, IV, in J. McNeil, op. cit., p. 89)
St. John Chrysostom (4th century, Archbishop of Constantinople, Church Father)
"For this cause God gave them up unto vile affections: for even their women did change the natural use into that which is against nature: and likewise also the men, leaving the natural use of the woman, burned in their lust one towards another.
All these affections then were vile, but chiefly the mad lust after males; for the soul is more the sufferer in sins, and more dishonored, than the body in diseases. But behold how here too, as in the case of the doctrines, he deprives them of excuse, by saying of the women, that "they changed the natural use." For no one, he means, can say that it was by being hindered of legitimate intercourse that they came to this pass, or that it was from having no means to fulfill their desire that they were driven into this monstrous insaneness. For the changing implies possession. Which also when discoursing upon the doctrines he said, "They changed the truth of God for a lie."
And with regard to the men again, he shows the same thing by saying, "Leaving the natural use of the woman." And in a like way with those, these he also puts out of all means of defending themselves by charging them not only that they had the means of gratification, and left that which they had, and went after another, but that having dishonored that which was natural, they ran after that which was contrary to nature. But that which is contrary to nature hath in it an irksomeness and displeasingness, so that they could not fairly allege even pleasure. For genuine pleasure is that which is according to nature. But when God hath left one, then all things are turned upside down. And thus not only was their doctrine Satanical, but their life too was diabolical." (Homily 4 on Romans)
St. Basil the Great (4th century, Bishop of Caesarea, Church Father)
"The cleric or monk who molests youths or boys or is caught kissing or committing some turpitude, let him be whipped in public, deprived of his crown [tonsure] and, after having his head shaved, let his face be covered with spittle; and [let him be] bound in iron chains, condemned to six months in prison, reduced to eating rye bread once a day in the evening three times per week. After these six months living in a separate cell under the custody of a wise elder with great spiritual experience, let him be subjected to prayers, vigils and manual work, always under the guard of two spiritual brothers, without being allowed to have any relationship … with young people." (Liber Gomorrhianus, op. cit. cols. 174f.)
St. Augustine of Hippo (4th century, Bishop of Hippo and Christian theologian)
"Those offences which be contrary to nature are everywhere and at all times to be held in detestation and punished; such were those of the Sodomites [homosexuals], which should all nations commit, they should all be held guilty of the same crime by the divine law, which hath not so made men that they should in that way abuse one another. For even that fellowship which should be between God and us is violated, when that same nature of which He is author is polluted by the perversity of lust." (Nicene and Post Nicene-Fathers, Vol. I: The Confessions: Chapter VIII)
St. Gregory the Great (6th century, Pope of Rome)
"Brimstone calls to mind the foul odors of the flesh, as Sacred Scripture itself confirms when it speaks of the rain of fire and brimstone poured by the Lord upon Sodom. He had decided to punish in it the crimes of the flesh, and the very type of punishment emphasized the shame of that crime, since brimstone exhales stench and fire burns. It was, therefore, just that the sodomites, burning with perverse desires that originated from the foul odor of flesh, should perish at the same time by fire and brimstone so that through this just chastisement they might realize the evil perpetrated under the impulse of a perverse desire." (Commento morale a Giobbe, XIV, 23, vol. II, p. 371, Ibid., p. 7)
St. Peter Damian (11th century, Bishop of Ostia, Doctor of the Church)
"Truly, this vice [homosexuality] is never to be compared with any other vice because it surpasses the enormity of all vices.… It defiles everything, stains everything, pollutes everything. And as for itself, it permits nothing pure, nothing clean, nothing other than filth.…
The miserable flesh burns with the heat of lust; the cold mind trembles with the rancor of suspicion; and in the heart of the miserable man chaos boils like Tartarus [Hell]…. In fact, after this most poisonous serpent once sinks its fangs into the unhappy soul, sense is snatched away, memory is borne off, the sharpness of the mind is obscured. It becomes unmindful of God and even forgetful of itself. This plague undermines the foundation of faith, weakens the strength of hope, destroys the bond of charity; it takes away justice, subverts fortitude, banishes temperance, blunts the keenness of prudence.
And what more should I say since it expels the whole host of the virtues from the chamber of the human heart and introduces every barbarous vice as if the bolts of the doors were pulled out." (Book of Gomorrah)
St. Thomas Aquinas (13th century, Catholic priest, theologian)
"However, they are called passions of ignominy because they are not worthy of being named, according to that passage in Ephesians (5:12): 'For the things that are done by them in secret, it is a shame even to speak of.' For if the sins of the flesh are commonly censurable because they lead man to that which is bestial in him, much more so is the sin against nature, by which man debases himself lower than even his animal nature." (Super Epistulas Sancti Pauli Ad Romanum I, 26, pp. 27f)
St. Cyprian of Carthage (3rd century, Bishop of Carthage)
"[T]urn your looks to the abominations, not less to be deplored, of another kind of spectacle. . . . Men are emasculated, and all the pride and vigor of their sex is effeminated in the disgrace of their enervated body; and he is more pleasing there who has most completely broken down the man into the woman. He grows into praise by virtue of his crime; and the more he is degraded, the more skillful he is considered to be. Such a one is looked upon—oh shame!—and looked upon with pleasure. . . . Nor is there wanting authority for the enticing abomination . . . that Jupiter of theirs [is] not more supreme in dominion than in vice, inflamed with earthly love in the midst of his own thunders . . . now breaking forth by the help of birds to violate the purity of boys. And now put the question: Can he who looks upon such things be healthy-minded or modest? Men imitate the gods whom they adore, and to such miserable beings their crimes become their religion.
Oh, if placed on that lofty watchtower, you could gaze into the secret places—if you could open the closed doors of sleeping chambers and recall their dark recesses to the perception of sight—you would behold things done by immodest persons which no chaste eye could look upon; you would see what even to see is a crime; you would see what people embruted with the madness of vice deny that they have done, and yet hasten to do—men with frenzied lusts rushing upon men, doing things which afford no gratification even to those who do them" (Letters 1:8-9, A.D. 253).
Eusebius of Caesarea (4th century, Bishop of Caesarea)
"[H]aving forbidden all unlawful marriage, and all unseemly practice, and the union of women with women and men with men, he [God] adds: 'Do not defile yourselves with any of these things; for in all these things the nations were defiled, which I will drive out before you. And the land was polluted, and I have recompensed [their] iniquity upon it, and the land is grieved with them that dwell upon it' [Lev. 18:24–25]" (Proof of the Gospel 4:10, A.D. 319).