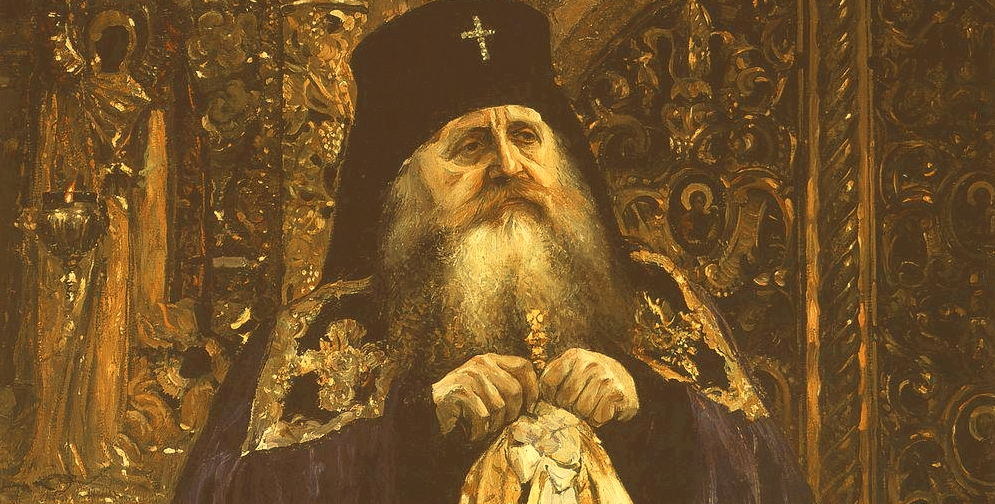 by Metropolitan Anthony (Khrapovitsky)
This comes to us from Abbot Tryphon of All Merciful Savior Monastery. With all the conspiracy theories regarding 9/11, the banking industry, and the takeover of our American government by Jews, it is time, I believe, to read the words of this holy hierarch, an address made from the steps of a synagogue to a mob following a pogrom against the Jews in Kiev. We should take to heart these words of Metropolitan Anthony for this present age, for the economic crisis, together with the mass unemployment stats, as our world is in the same dangerous state that was found in Germany, just prior to the rise of Adolf Hitler. Never again can any of us sit by in silence, and allow any people to be scapegoated for the sins of all.
Metropolitan Anthony (Khrapovitsky) of Kiev and Galicia was one of the most famous 20th century hierarchs of the Russian Orthodox Church. A renowned author and theologian, he received the majority of votes for the office of Patriarch of Moscow, but the future confessor and martyr Patriarch Tikhon was to be enthroned, instead. Fleeing in 1918 from the advancement of the Bolshaviks, as large numbers of his fellow bishops were being executed, Metropolitan Anthony was charged with leading the Russian Church in Exile, by Patriarch Tikhon.
At the very time when in the holy temples there was being sung,
"Let us embrace one another and say 'brother' even to those who hate us…"
yes at that very time, outside the church walls, a drunken, beastly mob broke into Jewish homes, robbing the peaceful inhabitants and tearing human beings into pieces. They threw their bodies from windows into the streets and looted Jewish stores. A second crazed, greed filled mob rushed in to steal the clothing and jewelry from the bloodied corpses, seizing everything they could lay hand on. Like Judas, these robbers enriched themselves with silver drenched in blood – the blood of these hapless human sacrifices! O God! How did Thy goodness endure such an insult and offense to the day of Thy saving passion and glorious resurrection! Thou didst endure Thy terrible struggle so that we would be dead to sin and live in Thee (Rm.6:11), but here they cruelly and in a most beastly manner slaughtered those who are Thy relatives according to the flesh, who, though they did not recognize Thee are still dear to Thy heart as Thou Thyself didst say not long before Thou didst suffer in the flesh,
"O Jerusalem, Jerusalem, thou who killest the prophets and stone those who are sent to thee; how often have I longed to gather your children as a hen gathers its chicks under its wing, and you desired it not" (Matt. 23:37).
O brethren, I wish to make you understand this so that you would comprehend that even today the Jewish tribe is dear to God's heart, and realize that God is angered by anyone who would offend that people. Lest anyone suppose that we are selecting words from the sacred scripture with partiality, let me cite for you the words of that man whom the Jews hated above all men. This is the man whom a company of the Jews vowed neither to eat nor drink until they had killed him (Acts 23:12) – Apostle Paul. Hearken to the words of God's spirit speaking through him: "I say the truth in Christ, I lie not, my conscience also bearing my witness in the Holy Spirit, that I have great heaviness and continual sorrow in my heart. For I could wish that I myself were accursed from Christ for my brethren, my kinsmen according to the flesh: Who are Israelites; to whom pertaineth the adoption, and the glory, and the covenants, and the giving of the law, and the service of God, and the promises; Whose are the fathers, and of whom as concerning the flesh Christ came, who is over all, God blessed for ever. Amen" (Rm. 9:1-5). Startling and frightening word! Did you truly write them, Paul, you who came to love Christ, who began to live in Christ as Christ lived in you? For whose sake did you consent to be separated from Christ? Was it not you, Paul, who wrote the lines preceding this verse
"For I am persuaded, that neither death, nor life, nor angels, nor principalities, nor powers, nor things present, nor things to come, nor height, nor depth, nor any other creature, shall be able to separate us from the love of God, which is in Christ Jesus our Lord" (Rm.8:38-39).
Even the angels could not have done that which you would voluntarily have done for the sake of the salvation of the Jews – those who were your enemies, your betrayers, they who beat you with whip, chained you in prison, exiled you and condemned you to death. Behold, brethren and marvel: these words of Apostle Paul are spoken concerning the Jews, even though they were opposed to Christ's faith. Lest your perplexity i continue, that same apostle and martyr explaining in the following chapter, the reason for his love of the house of Israel!
"Brethren, my heart's desire and prayer to God for Israel is, that they might be saved. For I bear them record that they have a zeal of God, but not according to knowledge. For they being ignorant of God's righteousness, and going about to establish their own righteousness, have not submitted themselves unto the righteousness of God" (10:1-2)
The words are confirmed in our own day by the life of the Jews. Observe for yourselves their dedication to their law, their preservation of the Sabbath, their faithfulness to their spouses, their love of work and their love toward their children, whom they encourage toward obedience. There was a time not so long ago when Christians excelled them in all these things, but in our present corrupt and degenerate age, we must look with regret upon all these qualities of the way of life of pious Jews. In our cities, the majority of Christians no longer distinguish between the ordinary day, feastdays and fasts, but have fallen into negligence and a loose life. It is true that there are also some like this among the Jews, but from whom did they learn such a disorderly path? Alas, from those whose forefathers confess Christ, from European and Russian nihilists who, like toads, swarm over our land, whose books and newspapers poison the air around us like the plague and cholera. The Karaim and Talmud Jews must be respected, but woe to both those nihilists from among the Jews and from among us, who are corrupting both family and society, who sow the seed of their contagion among Russian and Polish youth, and who are the main cause of the hatred toward the descendants of the holy forefathers and prophets beloved by the Lord. I am not speaking about respect for these nihilists among the Jews. Listen as the blessed apostle further explains the reason for his warm, self-denying love toward this people; hear how he explains their unbelief and obduracy toward Christ
"I say then, Have they stumbled that they should fall? God forbid: but rather through their fall salvation is come unto the Gentiles, for to provoke them to jealousy" (11:11).
If the Jews had all accepted Christ's faith, then the heathens who despised the Jews would have rejected it. If the Jews had all believed, then we, brethren, would not have become Christians, but would still be worshipping Jupiter and Venus or Perun and Volass as our pagan ancestors did. Be cautious, therefore, about slandering the unbelief of the Jews; rather grieve over it and pray that the Lord may be revealed to them. Do not be at enmity with them, but respect the apostolic word about the Israelite root and the branches that broke from it
"Because of unbelief they were broken off, and thou standest by faith. Be not high minded, but fear: For if God spared not the natural branches, take heed lest he also spare not thee. " (11:20-21)
O Christians, fear to offend the sacred, even though rejected, tribe. God's recompense will fall upon those evil people who have shed blood which is of the same race as the Theanthropos, his most pure mother, apostles and prophets. Do not suppose that this blood was sacred only in the past, but understand that even in the future reconciliation to the divine nature awaits them (2Pt.1:4), as Christ's chosen vessel further testifies,
"For I would not, brethren, that ye should be ignorant of this mystery, lest ye should be wise in your own conceits; that blindness in part is happened to Israel, until the fullness of the Gentiles be come in. And so all Israel shall be saved: as it is written. There shall come out of Sion the Deliverer, and shall turn away ungodliness from Jacob: For this is my covenant unto them, when I shall take away their sins" (11:25-27).
Let the savage know that they have slain future Christians who were yet in the loins of the present day Jews; let them know that they have shown themselves to be bankrupt opponents of God's providence, persecutors of a people beloved by God, even after its rejection (11:28). How sinful is enmity against Jews, based on an ignorance of God's law, and how shall it be forgiven when it arises from abominable and disgraceful impulses. The robbers of the Jews did not do so as revenge for opposition to Christianity, rather they lusted for the property and possessions of others. Under the thin guise of zeal for the faith, they served the demon of covetousness. They resembled Judas who betrayed Christ with a kiss while blinded with the sickness of greed, but these murderers, hiding themselves behind Christ's name, killed His kinsmen according to the flesh in order to rob them.