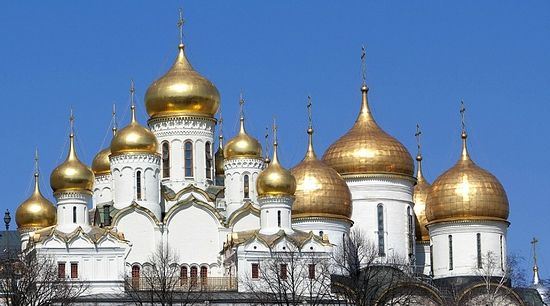 Someone is calling it like it is. Finally.
In his recent article published by the RT's Arabic service, the Lebanese journalist Habib Fuani stressed that today's Russian leadership is guided by traditional values, in contrast to neopaganism of the West.
"As opposed to ex-President George Bush Senior, who served as witness at a same-sex wedding of two women in 2013, and Barack Obama, who recently posed for a magazine as "an ally, hero and icon" of gays, Vladimir Putin since the beginning of his presidency has stuck to the traditions, again and again showing that Russia is a bastion of traditional values that is withstanding Western Neopaganism," wrote Habib.

"In the light of all this it becomes clear why Russia and the West have been fighting an ideological war."
The observers have noticed that one of the arguments, put forward by Vladimir Putin in connection with the reunification of the Crimea with the Russian Federation was the fact that Chersonese had been the "baptismal font" of St. Vladimir – the Baptizer of Russia (Rus'), the journalist continues.  
According to Habib, in another speech in 2013, Putin said:
"We see how many of the Euro-Atlantic states are in fact abandoning their own roots, including the Christian roots on which Western civilization is based. The moral principles and all traditional identities have been renounced: national, cultural, religious and even those of gender. According to the policy adopted, families with many children and "same-sex partnerships" or faith in God and faith in satan are given equal rights."
In his view, Putin's words have something in common with the 1995 encyclical letter of Pope John Paul II, entitled "Evangelium Vitae" ("the Gospel of Life"), which the pontiff proclaimed as a counterbalance to the Western "culture of death" with its sexual revolution, lechery, homosexuality, feminism, same-sex marriages, euthanasia, and replacement of the Christian values by those of Hollywood, the journalist writes. And it is precisely this breakup that is taking place in the West. Meanwhile, Russia has prohibited the propaganda of homosexuality.
But today Vladimir Putin is supporting not only Christianity, but also Islam, the article reads. Since 2005, when Russia became observer of the Organization of the Islamic Conference (OIC), it has displayed due respect for both Christian and Muslim values; all remember that it was Russian Parliament that banned any republications of the Charlie Hebdo's cartoons mocking the Islamic prophet. Putin, who in September 2015 took part in the opening ceremony of the new Grand Mosque of Moscow, called Islam a great world religion. Islam became a part of
"the spiritual life of our people",
the Russian President said on that day. That is why President of the Chechen Republic Ramzan Kadyrov is convinced that Russia
"is a real defender of Islam in Syria",
the Lebanese journalist wrote in conclusion.