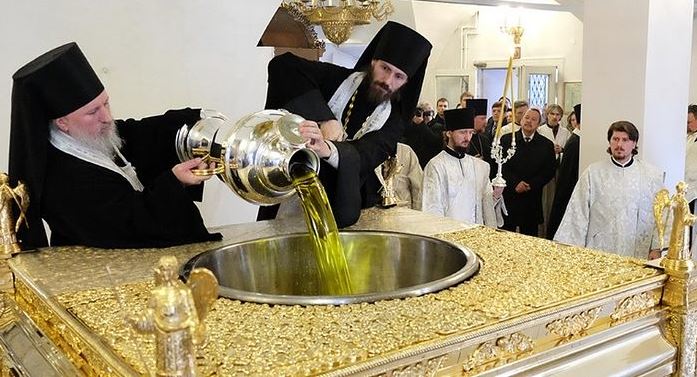 The rite of the Consecration of Holy Chrism begins today.
Every good and perfect gift comes from Thee, the Lord of mercy and Father of Lights. As Thou gavest to Moses Thy faithful minister, to Thy servant Samuel, and to Thy holy Apostles, so also, despite our unworthiness, give to us the grace to serve this great and life-creating Mystery. Send down Thine all-holy Spirit on this myrrh. Make it the anointment of kings, the spiritual nourishment, the preserver of life, the sanctification of souls and bodies. Make it the oil of gladness which was prefigured in the Law and shone forth in the New Testament; by which kings and high-priests, and prophets were anointed, as well as those who have been reborn in the Baptism of new life through the Apostles and Bishops and Presbyters who have succeeded them to this day.

Yea, O Master, Almighty God: through the descent of Thy Holy and adored Spirit, show it to be the garment of incorruption and the seal that makes perfect. May those who receive Thy holy Baptism (which represents their naming after Thee, Thine only-begotten Son, and Thy Holy Spirit) become Thy familiars, members of Thy house, citizens and servants sanctified in soul and body, turned away from all evil and every sin, delivered by the veil of the raiment of Thy most pure glory. Through this holy sign may they be known to Thy holy angels and archangels and all the heavenly host, and may they strike fear in every evil and impure demon. May they be a chosen people, a royal priesthood, a holy nation sealed by this Thy most pure Mystery. May they bear Thy Christ in their hearts as dwelling places for Thee, the God and Father in the Holy Spirit.

For holy art Thou, O our God, Who restest in the Saints, and to Thee do we send up glory to the Father, and to the Son and to the Holy Spirit, now and ever and unto ages of ages. Amen.