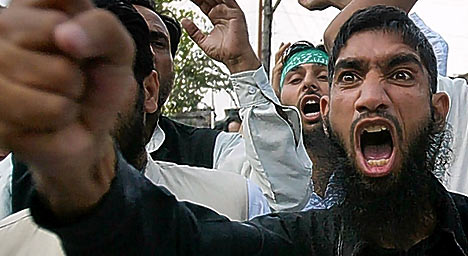 By Jeff Pegues, WABC
Random murders? Jihad? The police aren't revealing any motive at this time, but the fact that some believe it may have "had something to do with the victims' religion" points to the latter …
There's a gruesome double murder mystery in New Jersey.
Police say who did it is not a mystery because someone is under arrest but the mystery is why the accused killer cut [off] two men's heads and hands. The victims are reportedly from Jersey City, but their remains were found buried in a town southwest of Philadelphia. On the streets of Jersey City along Bergen Avenue, to the naked eye it's not obvious.
But to members of the close knit Coptic Orthodox church the pain is real.
'It's a shock, something like this doesn't happen to people like that,' a resident said.
Now they know two members of the church have been brutally murdered. But no one in this community seems to know why.
'It was crazy what happened to these two. Do they deserve it? No. Was it expected? Never. And it's just sad,' a resident said.
The two victims were found buried in a back yard in Buena Vista, New Jersey last Thursday. Monday, police announced an arrest. 28-year-old Yusuf Ibrahim is in custody. Investigators say Ibrahim shot and killed the victims, severed their heads and hands, and buried the remains at a Buena Vista house.
Back in Jersey City, friends of the victims are praying that police will have the answers to the questions that now haunt them. Privately some wonder if it had something to do with the victims' religion.
'I leave it for the police and the investigation,' said Samy Hohareb, the victim's friend.
So far, police have not revealed a motive for the grisly murders as the suspect sits behind bars, waiting for his day in court.