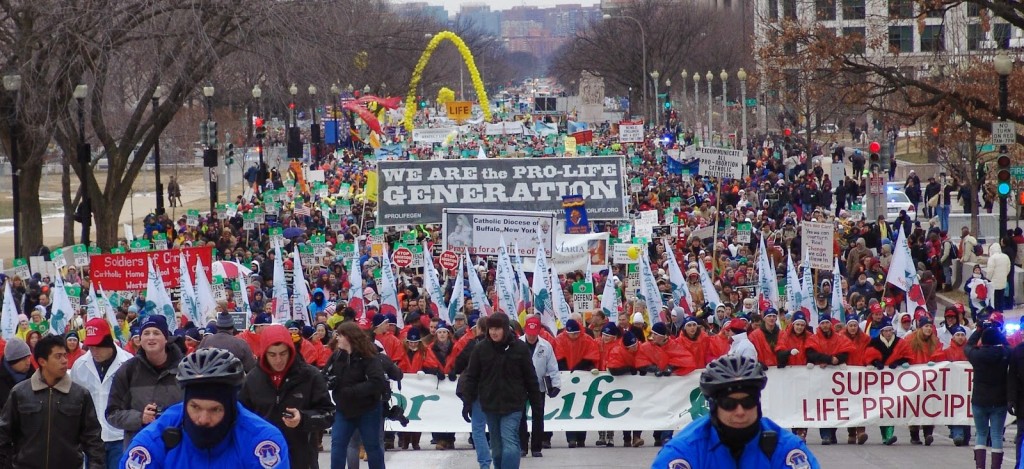 "You look out in the crowd and you see so many young people,"
remarked Orthodox Bishop Michael of New York and New Jersey. He said it gave him great hope for the future of the pro-life movement.
The primate of the Orthodox Church in America, Metropolitan Tikhon, shared that hope.
"I do feel like in our country, there's a real sense among our young people, especially, that life is really a sacred concern that we all have to protect," he told CNA.
While admitting there is still some polarization on the pro-life issue, he maintained that
"there's been a marked growth in those who really feel connected to the issue of life."
More than 200,000 were estimated to be in attendance at the 2015 March for Life in Washington, D.C. Young people flooded into the city from high schools, colleges, and seminaries across the country.
The theme of this year's March was "Every Life Is a Gift," putting special focus on unborn children who receive a "difficult prenatal diagnosis" such as Down syndrome or Spina Bifida. As many as 60 to 90 percent of unborn children with such a diagnosis are aborted, according to studies cited by the president of the March for Life, Jeanne Monahan.
A short distance away, U.S. Rep. Renee Ellmers (R-N.C.) had made the claim that
"social issues just aren't as important"
to Millennials. This idea was part of her explanation for torpedoing a significant piece of pro-life legislation, the Pain-Capable Unborn Child Protection Act, which would have banned most abortions after 20 weeks of pregnancy.
However, the bishops raved about the youthful enthusiasm for the pro-life cause. One bishop, the rector of a seminary, discussed his seminarians at the march.
"Their energy and enthusiasm that brings them to discern a vocation to the priesthood and come into the seminary is the same energy that filled the Basilica of the National Shrine today,"
said Auxiliary Bishop Timothy Senior of Philadelphia, rector of St. Charles Borromeo Seminary.
"That inspiration of young people, of a younger generation who understand what is the truth of the sanctity of life is really so inspiring," he told CNA.
The bishops also stressed the need for unity among people of all religions – and even those with no faith – on the pro-life cause.
"We certainly want to stand in solidarity with all in our country – people of all faiths or no faith at all – who recognize the sanctity of human life," Bishop Senior said.
Metropolitan Tikhon pointed out the presence of Catholics, Protestants, Jews, Muslims, and others at the march.
"The greater reason we are here is really to show our unity and to join together in a common cause that is, in a sense, greater than the specific issue of abortion," he said.
The march is ultimately about the Resurrection, he explained.
"The Orthodox Church has been represented since the beginning of this march. And I think we're very focused on tradition in the Orthodox Church," he said.

"We focus on the Resurrection – every Sunday is dedicated in the Orthodox Church to the Resurrection of Christ. Our Paschal services for the Feast of the Resurrection are really the highlight of our liturgical year, the overcoming of death, the destruction of corruption by our Lord, the resurrection of the whole human race – that permeates our whole life. And so we come here to share our joy at proclaiming that life and the resurrection that Christ offers us."