$1 Million Challenge Grant Announced by the Jaharis Family Foundation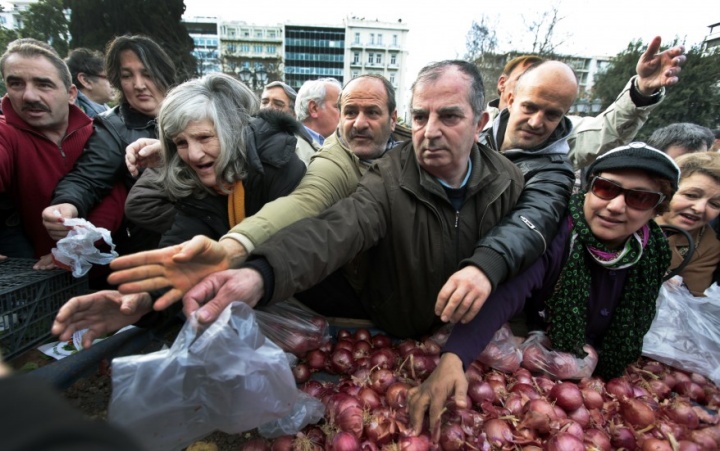 Baltimore, MD (IOCC) — The Jaharis Family Foundation, Inc. announced a $1 million Challenge Grant to International Orthodox Christian Charities (IOCC) toward the expansion of its program to address the need for sustainable access to safe and nutritious food facing a rising number of people in Greece, especially children, families and the elderly cared for by institutions. The Challenge Grant to IOCC is part of a larger $2 million pledge made by the Jaharis Family Foundation to support relief efforts by IOCC and other groups in Greece. The gift to IOCC will help expand the work that it has been doing over the past two years to address the critical health and nutritional needs emerging in Greece.
Every dollar contributed to IOCC's efforts in Greece will be matched by the Jaharis Family Foundation. IOCC anticipates that 1.7 million people will benefit from access to fresh food, supplemental food assistance, medical aid and other support over the next two years. An estimated 50,000 vulnerable families throughout Greece will benefit from the program. Through the provision of food products and health supplies donated to the effort, IOCC expects that it will be able to deliver more than $8 million in assistance as a result of the grant from the Jaharis Family Foundation.
"We know from our work in a variety of contexts around the world that lack of proper nutrition not only causes personal suffering, but also has detrimental effects on long-term health and productivity," said Constantine M. Triantafilou, IOCC Executive Director. "We are concerned about those who are especially vulnerable – children and the elderly – and are deeply appreciative of this important gift from the Jaharis Family Foundation as well as the continued support of His Eminence Archbishop Demetrios and the Greek Orthodox Archdiocese of America to help make this work possible."
Over the past two years, IOCC has delivered more than $4 million in food, medical assistance and heating fuel to Greece with the support of the Greek Diaspora. IOCC also responded with emergency relief and long-term assistance to the agricultural community in Greece following the 2007 wildfires that devastated family farms over a wide area of the Peloponnese.
"Part of our response will be to engage Greek farmers in supplying fresh food products for people in need," explained Triantafilou. "In this way, we are not only providing critical nutrition for people in need, but are able to develop locally sourced and sustainable resources that will benefit the Greek economy as well."
The gift from the Jaharis Family Foundation, Inc. will help IOCC develop and sustain these efforts in partnership with Apostoli, the humanitarian organization of the Archdiocese of Athens.
"The Jaharis Family Foundation's generosity will assist us in further developing our programs and partnerships with Apostoli to offer assistance to children who are experiencing the devastating effects of poverty and hunger," added Triantafilou. "This lead gift will help offer immediate relief and also help support programs that will create jobs and expand sustainable local agricultural initiatives. We will be able to greatly increase our efforts in offering assistance with dignity and respect."
In announcing the gift on behalf of the Jaharis Family Foundation, Inc., Michael Jaharis stated,
"Mary Jaharis experienced the devastating childhood hunger and poverty that existed in Greece during and immediately after World War II, and we, along with our family, feel compelled to support organizations promoting the welfare of children of Greece during the current crisis. We are honored and humbled to support IOCC's great work responding to international humanitarian crisis and, specifically, their response to the crisis in Greece. We hope that this gift will inspire other members throughout the Greek Orthodox Archdiocese of America and the Hellenic American community to collectively respond by donating funds that will match this gift and therefore further positively impact the children as well as other vulnerable populations such as the elderly of Greece."
Contributions to IOCC's efforts in Greece will be matched by the Jaharis Family Foundation, Inc. on a dollar-for-dollar basis – effectively doubling every gift made to the humanitarian relief effort. To learn more about donating to further assist Greece, visit: www.iocc.org/Greece.