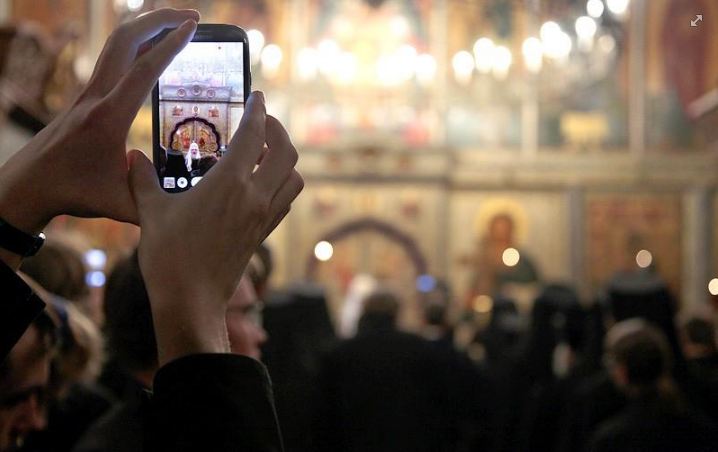 By St. John of Kronstadt
Here in church is the one thing needful; here is a refuge from vanity and the storms of life; here is the calm harbor for souls seeking salvation; here is incorrupt food and drink for souls; here is the light, which enlightens every man who comes into the world; here is pure spiritual air; here is the well of living water springing up into everlasting life; here the gifts of the Holy Spirit are distributed; here is the cleansing of souls.
The reading and singing in church are performed in a sacred language; all Orthodox Christians must learn it, in order to comprehend the sweet sayings of their mother, who is preparing her children for heaven, for eternal life…. Here in church, a man will come to know the true nobility of his soul, the value of life and its aim or his assigned path; here he dispels the fascination of worldly vanity and worldly passions by acquiring sobriety in his soul; here he comes to know his destiny, both temporal and eternal; here he comes to know his bitter, profound fall and seduction by sin; here the Savior is to be found, particularly in His holy and life-creating Mysteries, and His salvation; here a man comes to know his true relationship with God and his neighbor or with his family and the society in which he lives.
The church is an earthly heaven, the place where the closest union with the Divinity occurs; it is a heavenly school which prepares Christians for heavenly citizenship, teaching them about the ways of heaven, about the dwellings of heaven; it is the threshold of heaven; it is the place for common prayer, for thanksgiving, for glorifying the Triune God, Who created and preserves everything; it is unity with the angels. What is more precious and more honorable than the church? Nothing. During the divine service, as on a chart, the whole destiny of the human race is depicted, from beginning to end.
The divine service is the alpha and omega of the destiny of the world and of men.