by Thaddeus Baklinski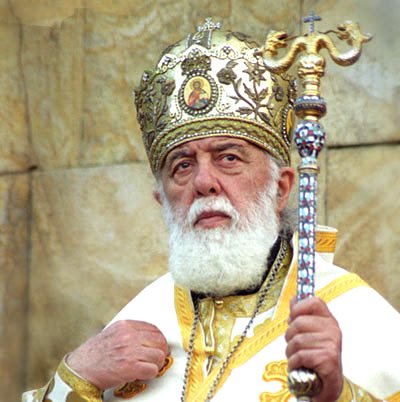 Georgian Prime Minister Bidzina Ivanishvili has said his government will debate legislation to ban abortion. The announcement follows an appeal by the Patriarch of the Georgian Orthodox Church for the procedure to be made illegal in the small country, according to a Radio Free Europe report.
In his Easter Sunday address, Patriarch Ilia II called abortion
"the heinous murder of an innocent creature committed with the decision and intent of parents,"
according to Civil.ge. 
"A doctor is a direct accomplice to this crime as well. This merciless murder of infants still continues unhindered and there is no one to protect them – neither the state nor the society," the Georgian Patriarch said. 
In a plea to parents, the Patriarch said,
"Those who do not want to give birth to a child for economic reasons… please do not commit this terrible sin; if you cannot afford raising children, the Church will take care of them." 

"Abortion has been banned since ancient times," the Patriarch noted in his address, "but as in various other countries, abortion is legalized and even encouraged via mass media and liberal ideology."
He also said abortion needed to be restricted because of the country's below-replacement-level birth rate. 
"Today, when there is so grave a demographic situation, we think that the state must adopt relevant laws to ban abortion," he said. 
Prime Minister Ivanishvili said the Patriarch's assessment of Georgia's demographic problems was correct, but added that improving social and economic conditions for the average Georgian family could also decrease the number of abortions. 
"Only this issue [an anti-abortion law] cannot solve this problem. In order [to tackle] the demographic problem it first and foremost needs economic development… there are other issues as well, but I think that the major factor is revenue for the families," Ivanishvili said, adding, "Families should have more opportunities, they have to live better, and the state should take care of them."
The chairman of the parliament's Health and Social Protection Committee, Dmitri Khundadze, told journalists that he favors banning sex-selective abortions but believes an outright abortion ban may increase back-alley abortions. 
"This is an issue which requires a cautious approach. I think that sex-selective abortions, which account for 30% of all abortions in Georgia, should be banned,"
MP Khundadze said on May 6. 
"But I think that an outright ban of abortion is inadvisable, because it may lead to an increase in unregistered abortions and an increase in newborn mortality rate," he said. 
In 2009, Patriarch Ilia II sparked a baby boom in the country by promising to personally baptize any baby whose parents already had two or more children. 
"The results have been," in the words of the Georgian Orthodox Church, "a miracle," with the country's birth rate increasing by nearly 20% during 2008. 
The head of Georgia's civil registry, Giorgi Vashadze, told the BBC that the jump from 48,000 births in 2007 to 57,000 in 2008 could be explained in part by the Patriarch's incentive, but also by the rise in average household incomes. 
Georgian President Mikhail Saakashvili publicly stated that the patriarch deserves much of the credit for the rising birth rate, which was 25 percent higher in 2010 than in 2005, and which Saakashvili said is helping the government achieve its five year plan of increasing the aging nation's population from 4.5 million to 5 million by 2015. 
"This will help raise the birth rate," Saakashvili said. "The patriarch has already taken steps in this direction. We should be thankful to him for continually reminding the Georgian people that we should multiply."