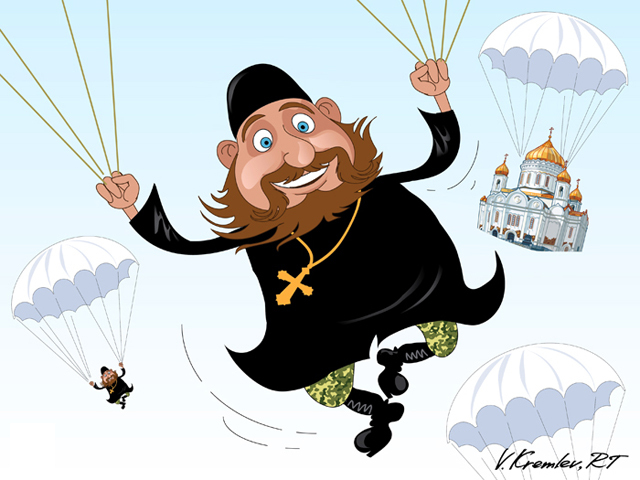 Yes, I'd do it in a heartbeat. From the Russian Airborne Force Press-Service
An Air-dropped church will be introduced in the Russian army.
Airborne priests and flying churches are set to fortify Russian soldiers' spirits. Now priests who serve in the Russian Army will have to learn basics of military training to deal with an extraordinary device.
A unique hi-tech air-dropped church will be introduced in the army. The church consists of a usual army tent and a life-sustaining module (a diesel power source, air conditioner and fridge). The chapel is put on the ground with an airborne platform used to carry armored vehicles and other heavy military equipment.
As heated debate continues in the Russian government over rearmament and military spending, some enterprising army officials have found a way out. The airborne church is reportedly needed because there are special sacraments in the Orthodox Church that demand a substantial number of utensils.
­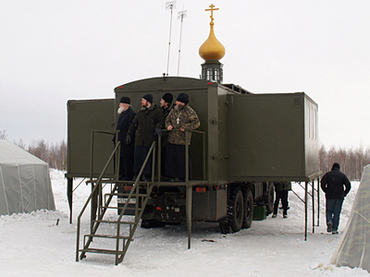 However some suggest the church could be used in order to bump up soldiers' spirits. Others have a bold assumption that the project's aim is to totally demoralize enemy with an unbelievable scene: a plethora of priests raining down from the skyline.
In order to match their new flying service, chaplains from the Russian Airborne Force will have to take part in military games in mid-March with their fellow-servicemen. They will not only practice parachute jumping, but also study the construction of a platform carrying the brand new airborne church.
The Russian military says it is the only flying chapel on Earth.
RT will publish video evidence of this miraculous place of worship descending to solid Earth as soon as we get hold of it.
More Photos