by Tom Philips
Feng Zhili, the head of Zhejiang's ethnic and religious affairs committee, complained earlier this year that Christianity's spread had been "too excessive and too haphazard".
Demolition teams began destroying parts of a Chinese church that has become a symbol of resistance to the Communist Party's draconian clutch on religion, activists and witnesses said on Monday.
Sanjiang church in Wenzhou, a wealthy coastal city known as the "Jerusalem of the East", made headlines earlier this month when thousands of Christians formed a human shield around its entrance after plans for its demolition were announced.
Church members accused Communist leaders in Zhejiang province of ordering an anti-church crackdown and claimed there were plans to completely or partially demolish at least 10 places of worship.
Officials rejected those accusations, alleging the church had violated building codes.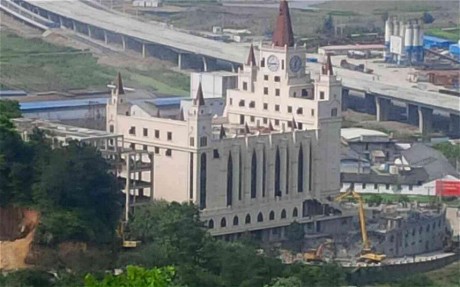 After mounting their high-profile occupation in early April, many protesters withdrew from Sanjiang church after its leaders appeared to have negotiated a compromise with the government.
However, that deal appears to have broken down in recent days with reports that some church leaders and worshippers had been harassed and detained by security agents and officials.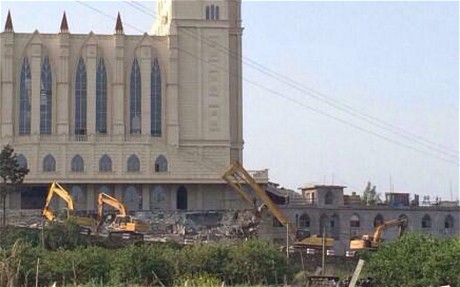 On Monday morning demolition teams began tearing down parts of the church in Wenzhou, a city around 230 miles south of Shanghai that has one of the country's largest congregations.
"I saw three or four excavators out front, demolishing the church, and three or four out back, demolishing the annex building. I also saw a small excavator going inside the church doing demolition work inside," said one witness who claimed there were around 100 police around the church, including armed officers.

"All the roads are blocked, you can't get close to the church," said a local Protestant leader, who asked not to be named for fear of reprisals from the government. "The two sides of the main hall are being demolished."
Photographs sent to The Telegraph and posted on social media sites showed at least four excavators that appeared to be ripping down large sections of the church's exterior.
Other images showed black police vans, military trucks and security agents standing on the main road outside.
It was not immediately possible to verify those pictures. Nor was it clear whether authorities planned to destroy the entire church, which has a large red cross on its spire, or just part of the structure.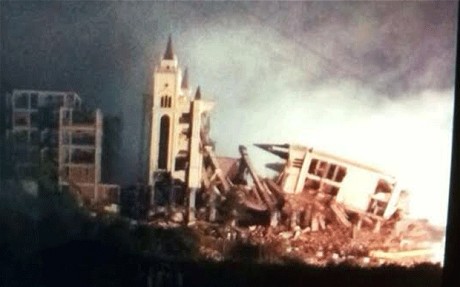 Church members told The Telegraph authorities had attempted to silence the congregation and said they believed their communications were being monitored.
"My phone is not safe," said one.
Bob Fu, a US-based Christian activist, said:
"This government-orchestrated barbaric forced demolition represents a serious escalation against religious freedom in Zhejiang. The Chinese regime chooses to disregard its own laws and the will of its best citizens."