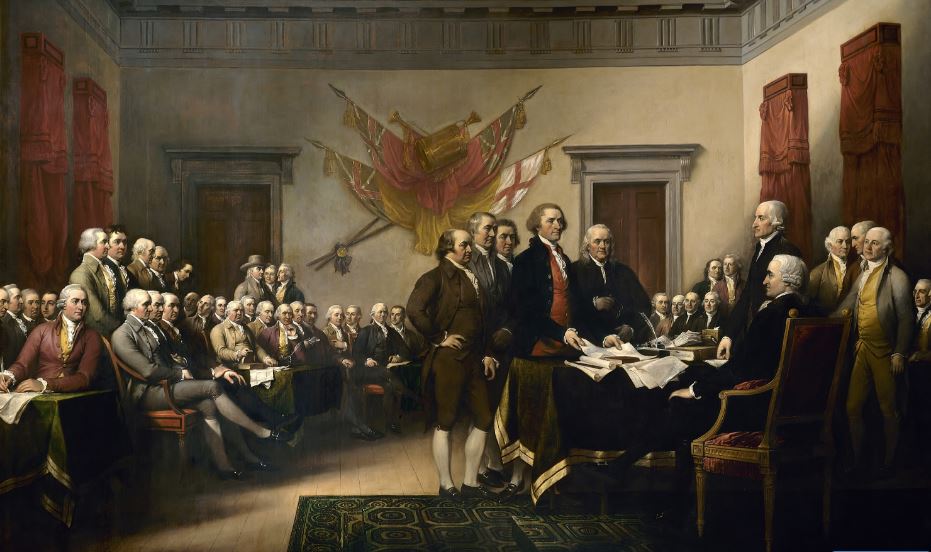 This is my grandson's first Independence Day as well. And we have no excuse for not passing on its singular importance to the next generation.
by Charles C. W. Cooke
Today is my son's first Independence Day. He doesn't know that, of course, because he's only three-and-a-half months old. But my wife and I do, and we've attempted to mark the occasion nevertheless — in loco filius, if you will. As such, Jack will be dressed today in a special onesie (stylized picture of a milk bottle, "Come and Take It" tagline); he will wear his Old Glory sun hat; and he will be involved in all the festivities that the family has to offer. Naturally, none of this will make even the slightest bit of sense to him; as a matter of fact, today will be the same as is any other day in the life of a baby, just with more people around and a surfeit of BBQ.
But you have to start somewhere, right? Because Jack is three months old, it is acceptable for his parents to treat July Fourth as an excuse for the purchase of kitsch. But what about after that? What about when he is five? Or twelve? Or nineteen? As a native Brit, I am accustomed to the self-deprecating instincts that are the hallmark of British society, and I am acquainted, too, with the reflexive aversion to patriotism that is all-too customary in the birthplace of Western liberty. In consequence, I know that if I were to leave my son befuddled by America's Independence Day proceedings, he would probably stay that way in perpetuity. And that would be a tremendous, unconscionable shame — a shame that, frankly, would reflect poorly on me. Once they reach a certain age, we expect our children to know what is what.
As soon as they start speaking, we begin to teach them right and wrong; once they are old enough to be trusted with responsibility, we monitor closely how it is being used; and, in a process that is hopefully never-ending, we make sure that they know as much about the world around them as they are capable of taking in. It is in pursuit of this lattermost goal that we designate national holidays. In May, we celebrate Memorial Day, lest we forget what we owe our ancestors. In January, we observe Martin Luther King Day, that we might bring to mind the most uncomfortable parts of our nation's past. And on July Fourth we arrange an ostentatious display of patriotism, in resounding commemoration of the moment that a ragtag bunch of philosopher-king rebels set their revolutionary ideals before a candid world, and changed human history forever.